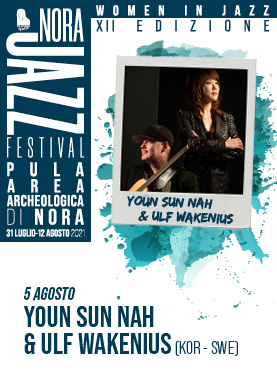 Youn Sun Nah and Ulf Wakenius
Area Archeologica NORA
- PULA
ACQUISTA ON LINE
PUNTI VENDITA
Eccezionale improvvisatrice con una favolosa tecnica vocale, la coreana Youn Sun Nah è una delle rappresentanti più sbalorditive del vocal jazz mondiale. La sua voce sottile e potente, esplora molteplici repertori in grado di esprimere una vasta gamma di colori ed emozioni. Assieme al chitarrista svedese Ulf Wakenius hanno sviluppato una complicità quasi telepatica, trasformando il loro duo in una vera gemma artistica.
Outstanding improviser with a fabulous vocal technique, Youn Sun Nah is among the leading figures of the contemporary vocal jazz scene. She explores many different musical repertoires, expressing a wide range of emotions. Together with the legendary jazz guitarist Ulf Wakenius - also known as Oscar Peterson's last guitarist - they have developed «a nearly telepathic complicity on stage».
Potrebbero interessarti anche..